Best Things To Do In Philly In August 2020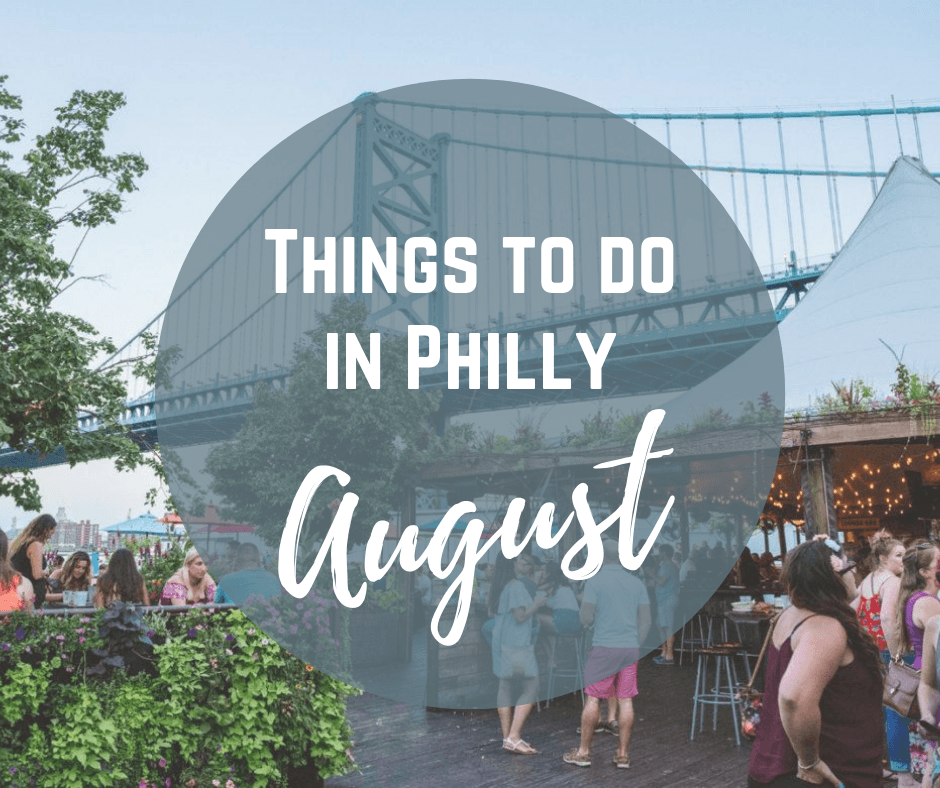 ---
Looking for the best things to do in Philly in August 2020? Look no further! Many of your favorite places have opened up again and welcome you back for more fun experiences! 
From Art exhibitions, to Open-Air Dining, Drive-In Movie or Concert experiences, your favorite sports teams back in action and more! This month brings so much excitement and entertainment the whole family can enjoy!
Be sure to sign up here  and stay tuned for more of the Best Things To Do In Philly In August 2020! You can also follow us on Facebook and Instagram to keep up with more fun events happening near you! 
Arts & Culture
1

Visit the National Constitution Center 

Photo Courtesy Of Visit Philly

August 5 - September 5, 2020

With the reopening of the only museum in the world dedicated to the U.S. Constitution comes a treat for all visitors. The National Constitution Center offers free admission through September 5, 2020. Before your visit be sure to reserve FREE timed tickets online in advance. 

The Center brings the U.S. Constitution to life for visitors of all ages through interactive and educational programs, online resources and exhibits. Learn about, debate, and celebrate the greatest vision of human freedom in history!

The reopened attraction has of safety protocols to keep guests and staff safe and comfortable, and that some sections of the museum might not be open at this time.

When:

Wednesdays to Saturdays, , 10 AM - 3 PM

Get Directions:

Cost:

Free, reservations necessary

View Tickets

2

Browse through Henry Bermudez's art at Taller Puertorriqueño

Photo Courtesy Of tallerpr.org

Extended through August 21, 2020

The Henry Bermudez: Wilderness in Mind exhibition at Taller Puertorriqueño displays Bermudez' paintings, drawings, and installations which incorporate intricate and rich distinctive patterns, inspired by the Amazon rainforest.

With his works and Mexican, Peruvian, and Afro Latino influences, Bermudez addresses the politics of race, beauty, climate change, and immigration.

Note: The capacity is limited to five people in the gallery with a duration of 45 minutes for each visit and basic guidelines to ensure a safe visit can be found here.

When:

Mondays - Fridays, 1PM - 4PM

Get Directions:

Cost:

View Tickets

3

Visit the Eastern State Penitentiary

Photo Courtesy Of Philly Voice

Reopening August 14, 2020

The Eastern State Penitentiary was once the most famous and expensive prison in the world, and was operational from 1829 until 1971. Notorious and well-known criminals such as Al Capone and bank robber Willie Sutton were held as prisoners.

Learn more about the daily life, architecture, and notable prisoners of this former prison. During the initial phase of reopening many safety measures are put in place. Visitors will follow a one-way route. Upon arrival, you will get an MP3 player and disposable earbuds that will guide you through the prison.

Afterwards, you can end your tour or continue to explore other one-way paths that feature additional audio stops, and exhibits.

When:

Friday - Sunday, 10AM to 5PM

Get Directions:

Cost:

$15 for adults, $13 for seniors, and $11 for students and children ages 7-12

View Tickets
Drive-In Events & Experiences
1

See a Drive-In Cinema Pop-Up

Photo Courtesy Of KYW Radio

July 22 – August 29, 2020

Cinema Pop-Ups and The Greater Philadelphia Expo Center in Oaks bring you everyone's favorite drive-in-movie experience to Montgomery County! 

The Expo Center has partnered with entertainment company Kilburn Live to bring "Cinema Pop-ups" to the Expo Center Fairgrounds. With car spaces at least 8 feet apart, guests will have plenty of space to social distance and enjoy the drive-in movie experience.

This August enjoy screenings of movie classics from Space Jam, to Gremlins, Monty Python and the Holy Grail, Happy Feet, the new film Palm Springs and more!

When:

9PM

Get Directions:

Cost:

View Tickets
To Do With Kids
1

Light up the Night at Spruce Street Harbor Park

Photo Courtesy Of Delaware River Waterfront Corporation

July 17 - October 11, 2020

Light up the night with a new interactive LED installation titled Bright Lights, Our City sustained by Univest Financial at Spruce Street Harbor Park on the Delaware River waterfront!

This super fun experience allows visitors to create their own light display from the iconic hanging lights at the park. Watch the light patterns and color palettes change by your touch.

Afterwards, why not take a stroll to nearby restaurants and enjoy some tasteful outdoor dining – the perfect way to top off a lit evening!

When:

Monday - Thursday, 5PM - 10PM & weekends

Get Directions:

Cost:

View Tickets

2

Have some fun at Blue Cross Riverrink Summerfest

Photo Courtesy Of Groupon

Summer 2020

Take a stroll, enjoy some food and drinks, soak in the views, and relax at the Blue Cross RiverRink Summerfest! Enjoy activities from boardwalk games, to Ferris Wheel rides, mini golf and more!

There is also an urban beach area which overlooks the Delaware River, and comes complete with lounge chairs and picnic tables. 

The health and safety of all guests and staff members is top priority and the new safety enhancements help maintain a relaxing, clean, and fun environment for everyone. 

Admission to Blue Cross RiverRink Summerfest is free and open to the public. Mini-golf, games, rides and concessions are pay-as-you-go. ​

When:

Monday - Friday, 5PM - 11PM & weekends

Get Directions:

Cost:

View Tickets
Food & Drinks
1

Enjoy Open-Air Drinking and Dining

Photo Courtesy Of Thrillist

Summer 2020

Summer is still around in Philly, which means outdoor dining and drinking spots are made available for guests to enjoy!

The city of Philadelphia is rich in culture, so it comes with no surprise that it also offers an array of delicious food and drink options!

Enjoy a selection of Pan-Asian delicacies from Sampan Philadelphia, have a fiesta at Jose Pistolas with some traditional Mexican flair, or tickle your taste buds with one or three pints of beers at The Black Sheep Pub & Restaurant. The options are endless! 

Get Directions:

View Tickets

2

Cruise through the Summer

Photo Courtesy Of Visit Philly

Summer 2020

The Spirit of Philadelphia is cruising down the Delaware River again from its berth at Penn's Landing.

You can enjoy some outdoor dining experiences while taking in the beautiful views of Philadelphia's skyline and the Delaware from the spacious rooftop deck aboard the Spirit of Philadelphia.

Cruise through the rest of summer in style while sipping some tasty wine, cocktails, and craft beers. A Spirit Cruise by Hornblower gives you the chance to dine, dance and see Philadelphia like never before.

When:

Monday - Thursday, 6:30PM - 9:30PM & weekends

Get Directions:

Cost:

View Tickets
Sports
1

Philadelphia 76ers vs. Toronto Raptors

Photo Courtesy Of Raptors HQ

August 12, 2020

Philadelphia 76ers face the Toronto Raptors on Wednesday at 6:30PM. 

The Raptors are currently the second in the seeding in the Eastern Conference, while the Sixers have secured sixth thus far. Both teams are on their way to the playoffs, so Wednesday's game can be regarded as a warm-up for the big showdown on August 16!

The 76ers currently have many of their main players recovering or suffering injuries this just means that they will need all the support they can get! Tune in on ESPN+ and show your team some love and support!

When:

6:30PM

Get Directions:

View Tickets

2

Philadelphia 76ers vs. Houston Rockets

Photo Courtesy Of Sixers Wire - USA Today

August 14, 2020

The Houston Rockets and Philadelphia 76ers are two of the most exciting teams by far in the NBA, and it is always an exciting event when the two teams match up.

Thrilling action on the court, some of the best athletes and players in the world, and a rather lively and interactive fanbase! These are just some of the many qualities that make this face-off so great!

Tune in on ESPN+ and show your team some love and support from home! Go Sixers!

When:

9PM

Get Directions:

View Tickets

3

Philadelphia Flyers vs. Montreal Canadiens

Photo Courtesy Of NHL.com

August 13 - August 23, 2020

The Flyers enter the Stanley Cup playoffs with Game 1 of the 7-Game-Series on Wednesday against the Montreal Canadiens.

The Flyers are currently the NHL's hottest team, winning 12 of their last 13 games.

They have all four lines contributing to their wins: a solid defense that allowed just one goal in each of their three round-robin games, their young goalie, Carter Hart, who has made unbelievable saves thus far on this national stage. This is a team you don't want to miss seeing!

Dates and times for all games can be found here.

When:

8PM

Get Directions:

View Tickets

4

Watch some homers by the Phillies

Photo Courtesy Of Bleacher Report

August 11 - September 27, 2020

Baseball is back, baby! After a few COVID-19 cases popped up after the first game against the Miami Marlins a few weeks ago, the season took a short break to ensure the safety of all players and staff members. 

Well, the season is back in full swing! Many of our Phillies' players, like J.T. Realmuto, Bryce Harper and many more have restarted the season with a series of homers! And they're keeping 'em coming! The Phillies have a bunch of games listed for the rest of the summer and believe me when I say, you don't want to miss any one of them!

Check out the schedule here and remember to stay safe and show your fave team some love and support from home! 

When:

various times

Get Directions:

View Tickets
By: William Zimmerman